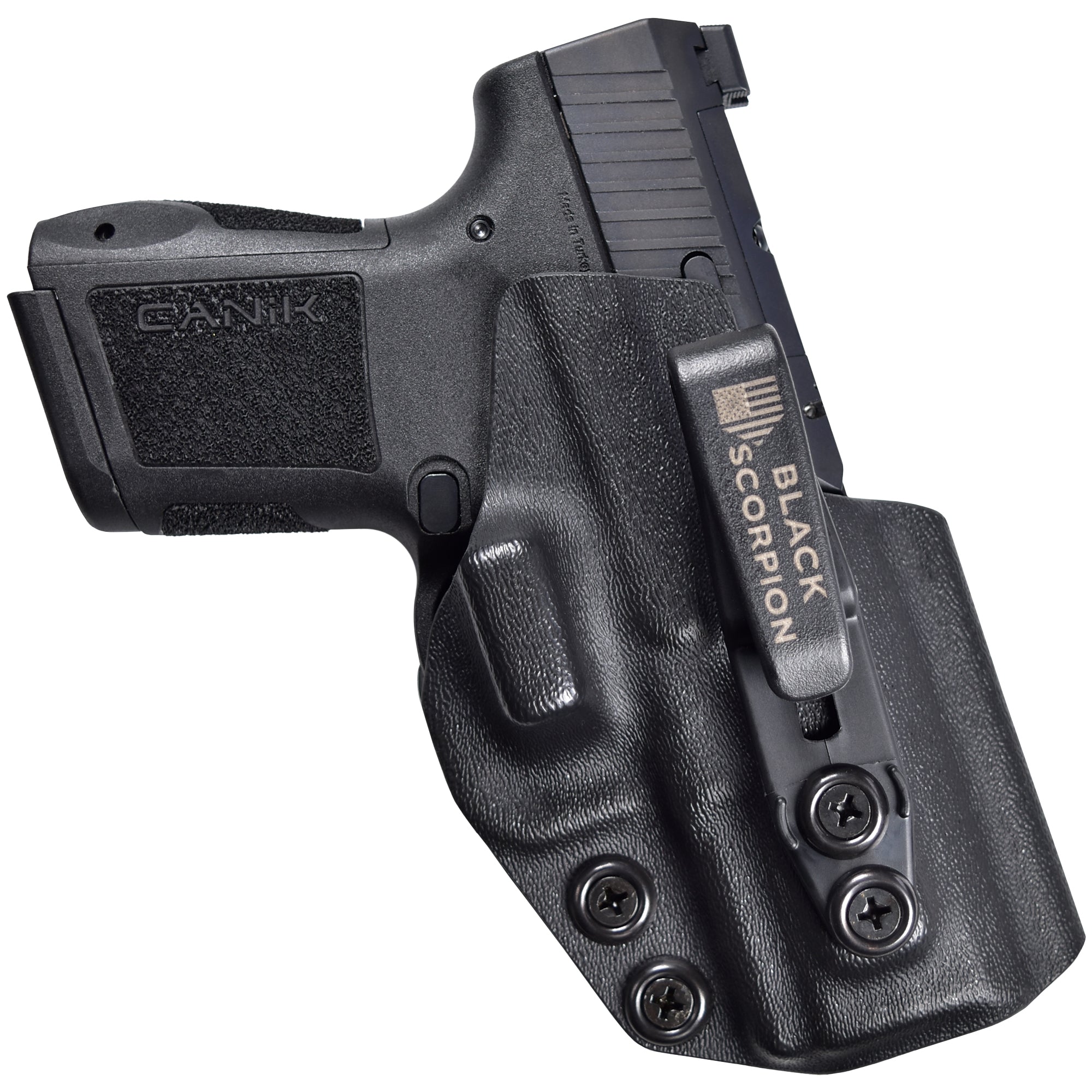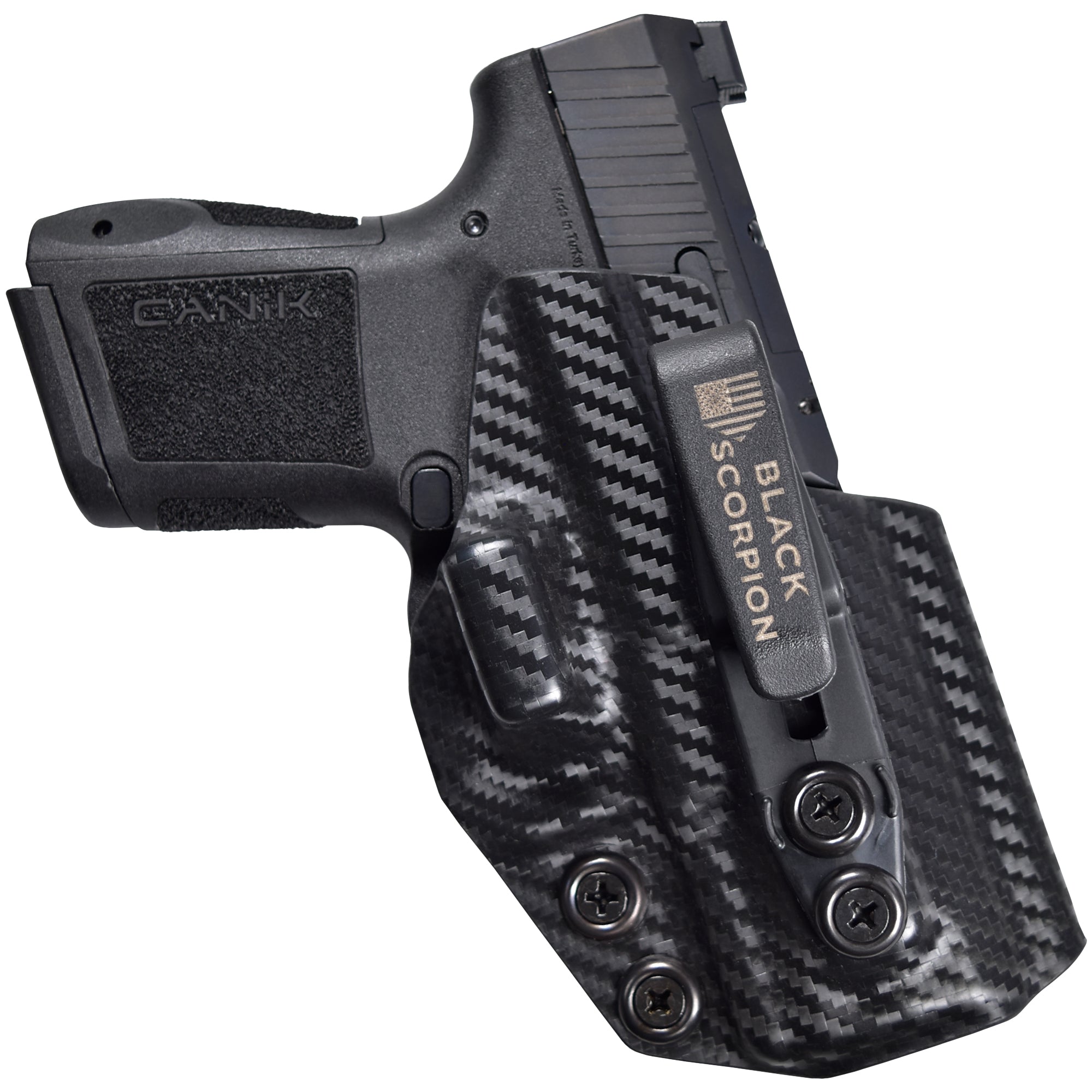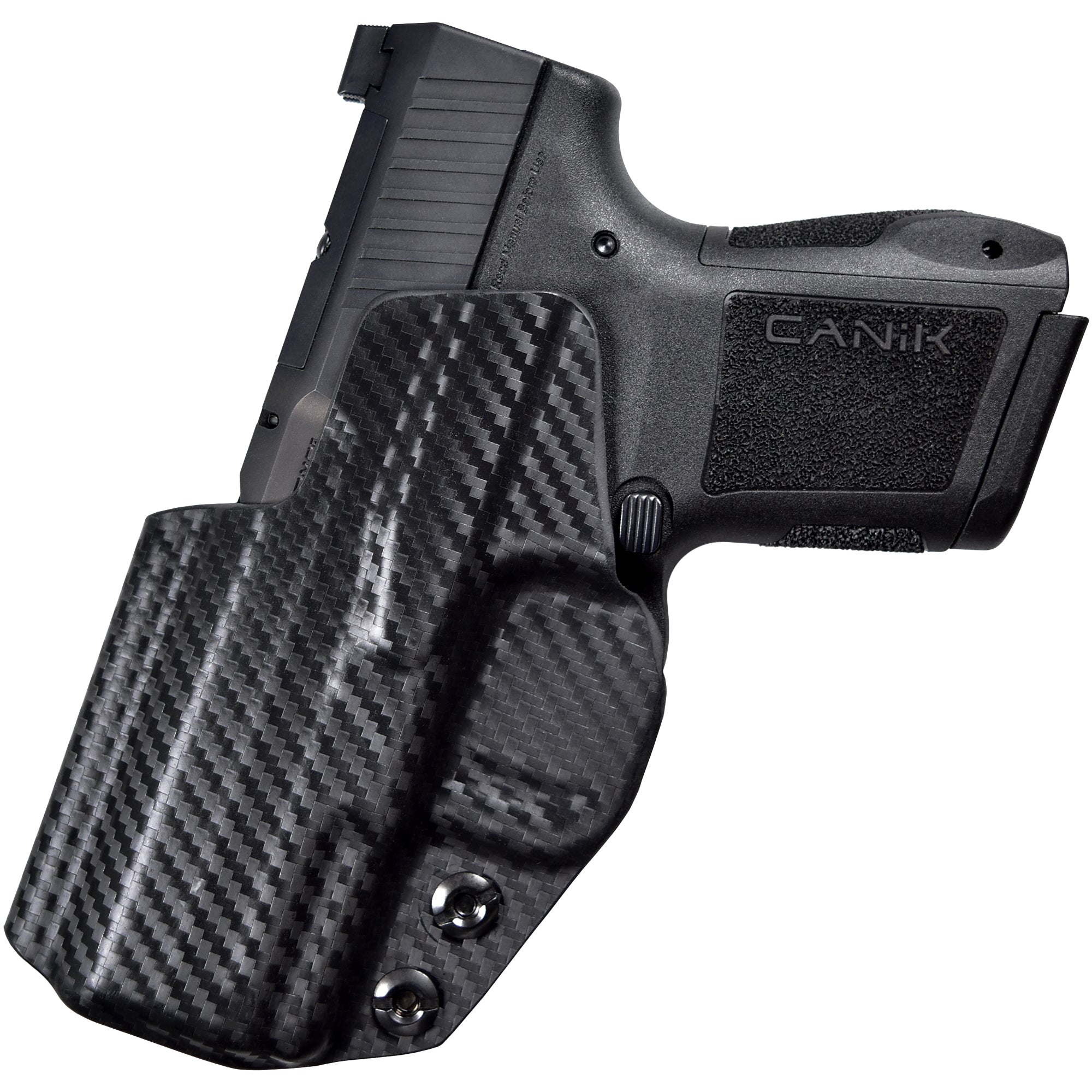 Canik METE MC9 IWB Belt Wing Tuckable Holster
SKU: HC23-IWBTUCK-MC9-BKRH
SAME/NEXT DAY SHIPPING
The Belt Wing Tuckable Holster offers a discreet way to appendix carry your gun. It is compatible with virtually any red-dot sight on the market and the open-muzzle design allows threaded barrels to pass. The protruded area on the trigger pushes against the backside of the user's belt in order to reduce printing.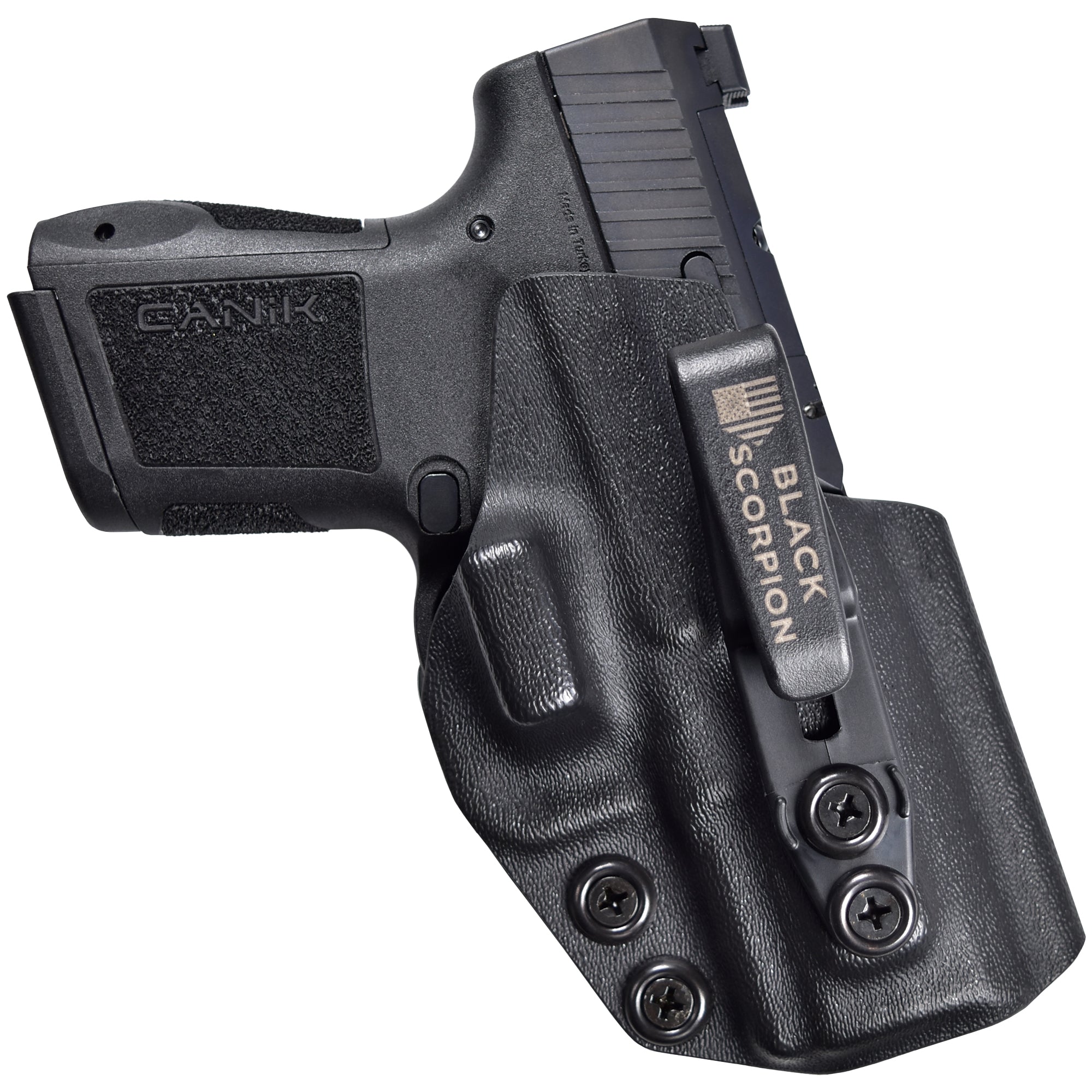 Canik METE MC9 IWB Belt Wing Tuckable Holster
Sale price

$54.99
Regular price
Choose options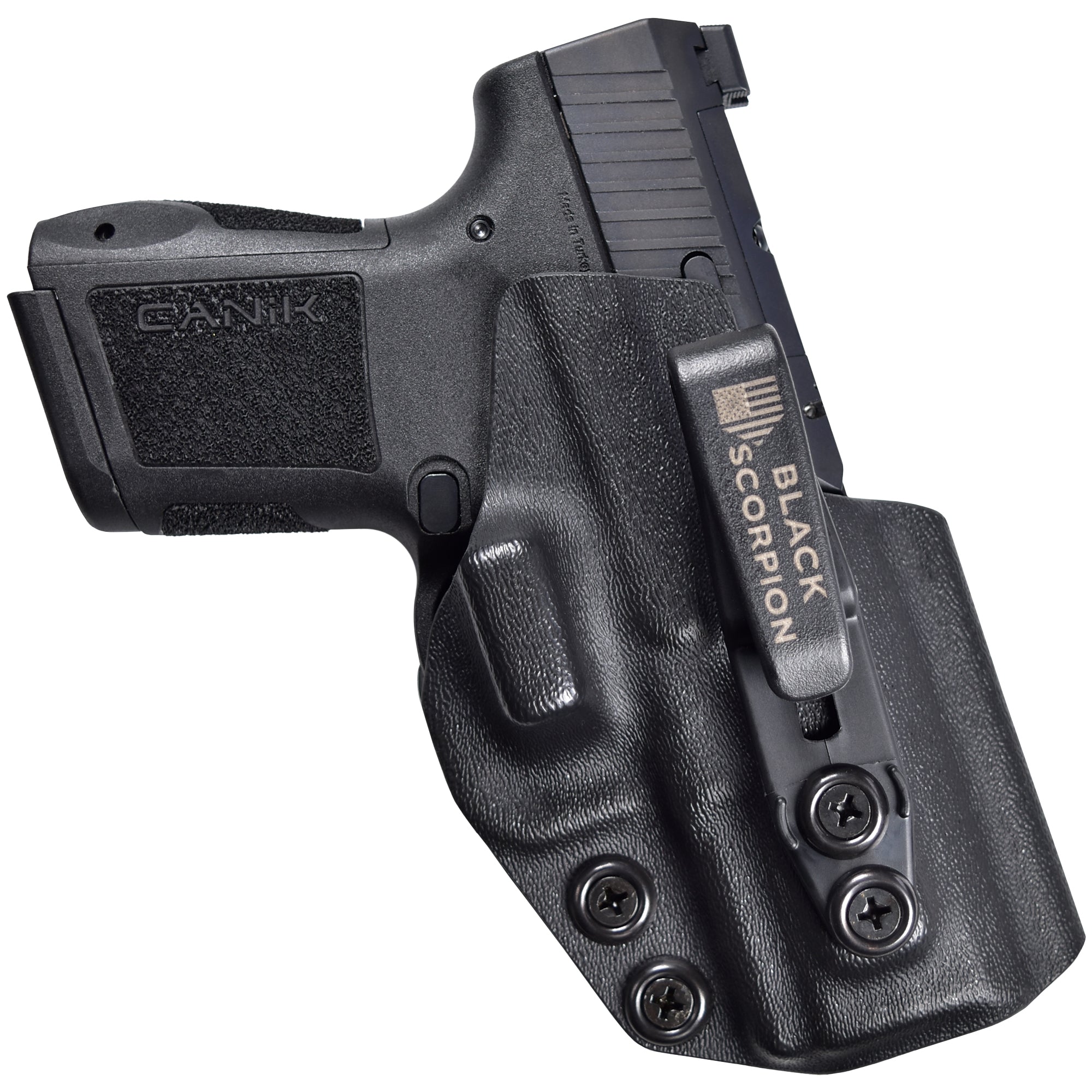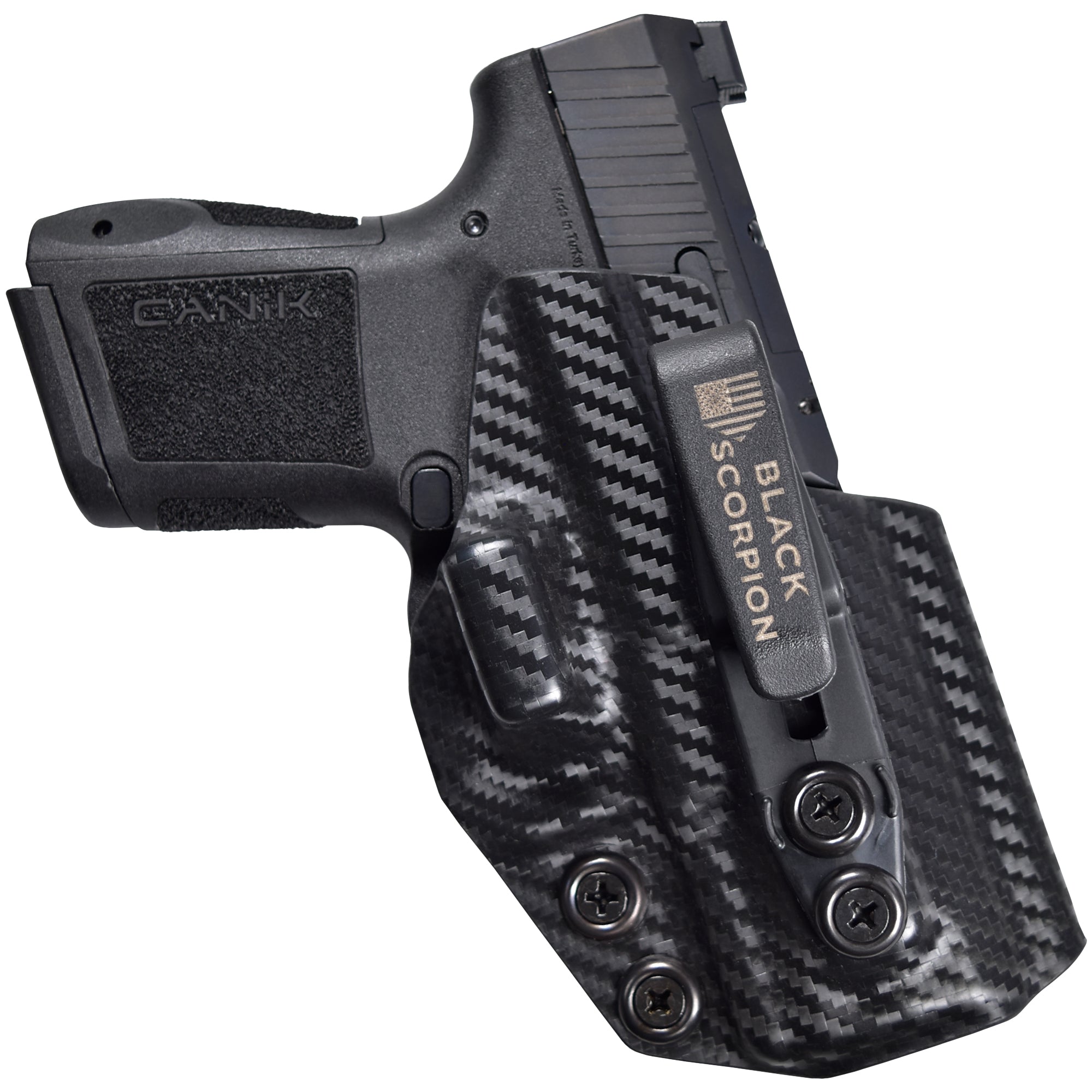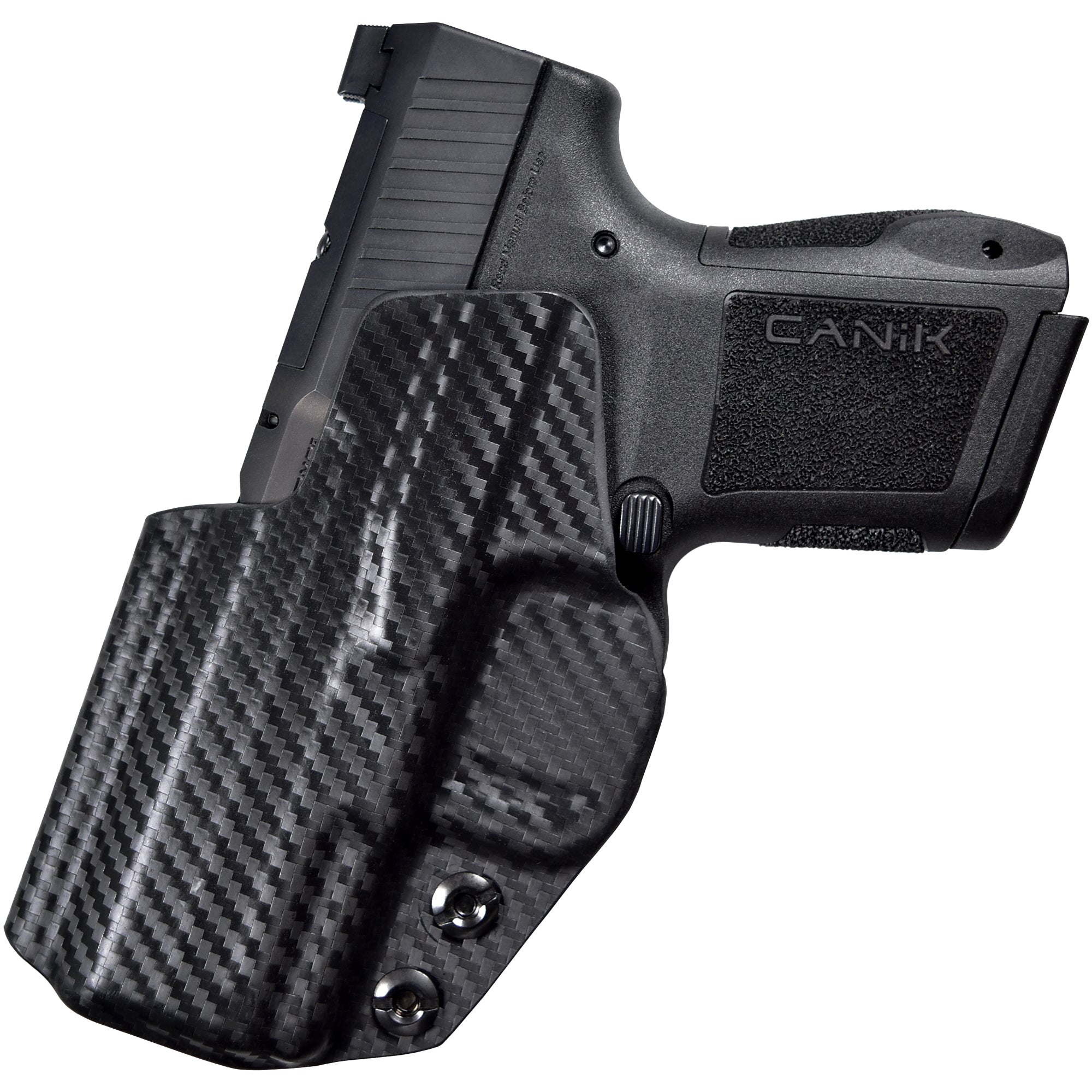 BELT WING TUCKABLE HOLSTER FEATURES:
The Belt Wing Tuckable Holster accommodates a wide range of optics, including RMRs and SROs, making it highly versatile.
The integrated "claw" elevates concealment by applying pressure against the rear of your belt, causing the firearm's grip to move closer to your body, effectively minimizing any visible outline or printing.
The Belt Wing Tuckable Holster provides the flexibility to customize the draw of your firearm by using adjustable retention screws, enabling you to adjust the level of tightness or looseness according to your preference.
The Belt Wing Tuckable Holster is tapered on the muzzle end but open to allow the use of threaded barrels.
The Belt Wing Tuckable Holster includes an elevated sight channel that accommodates aftermarket sights, all while preserving the sleek and inconspicuous profile of your firearm.
Designed, Manufactured & Ships from Sunrise, FL.
Functional holster with room for optic
I purchased the Black Scorpion holster based on availability. There are few manufacturers that offer IWB for the Canik MC9, including preferred vendors. This was first purchase from the brand.
Likes: accepts optic with out altering, adjustable retention, lightweight, claw
To be improved: there's a (weird) protrusion of approximately 1/2" on the right rear side that appears to be wasted space that sits away from the trigger that bulges outward when tucked in my waistband. My only guess it's to accommodate a trigger guard mounted laser. For this reason, I want to rate it 3.5 stars.
I am tempted to return/reorder to determine whether it is defected, and if not, request a refund. Again, there are limited options from other manufacturers. The holster is functional bolstering the ability for use with an optic mounted. At the price point, I can live with the odd "extra" mound of kydex. That limits this holster as a go to, especially with slacks and other lightweight material. The included Canik holster is superior here, although it's not for use with an optic.
Overall, it's a neat holster. Try it out for yourself.
IWB Belt Holster for Canik Mete MC9
The Canik Mete MC9 comes with a holster but the quality and comfort are no match to the Black Scorpion holster. Extremely comfortable appendix carry with iron sights, Holoson 507k, Holoson 407k, and the SIG Sauer Romeo Zero.
Great holster
I carry everyday and rotate pistols and holsters regularly. This setup is quickly becoming a favorite. The built in "claw" really helps with pressing the grip back towards your body, reducing printing. Will be buying more Black Scorpion holsters.
Indifferent.
I love the color and it fits my gun well. I love the idea of the holster to have a trigger hump vs a wing/claw. It makes getting in and out of pants much easier. The con is I can definitely see the trigger under the hump. There is a pea sized hole on the belt side of holster at the left hand mag release. Although unlikely by accident you could intentionally hit the trigger through it. Also, because of the optics ready feature there is little to no retention. I'm not mad, but also not thrilled with it.
OneWord….Excellent Holster!
I have different holsters for my Canik METE MC9 and they didn't quite meet my needs for every day concealed carry. Finally found my ideal holster in the Black Scorpion IWB Belt Wing Tuckable holster (carbon fiber). Lightweight, minimalist with perfect fit and retention. The belt wing is non-obtrusive and minimizes printing. Very highly recommended! Will be looking at other Black Scorpion holsters/products for my EDC pistols. Very happy customer! CLM
Package Contents
1X Holster w/ Tuckable Belt Attachment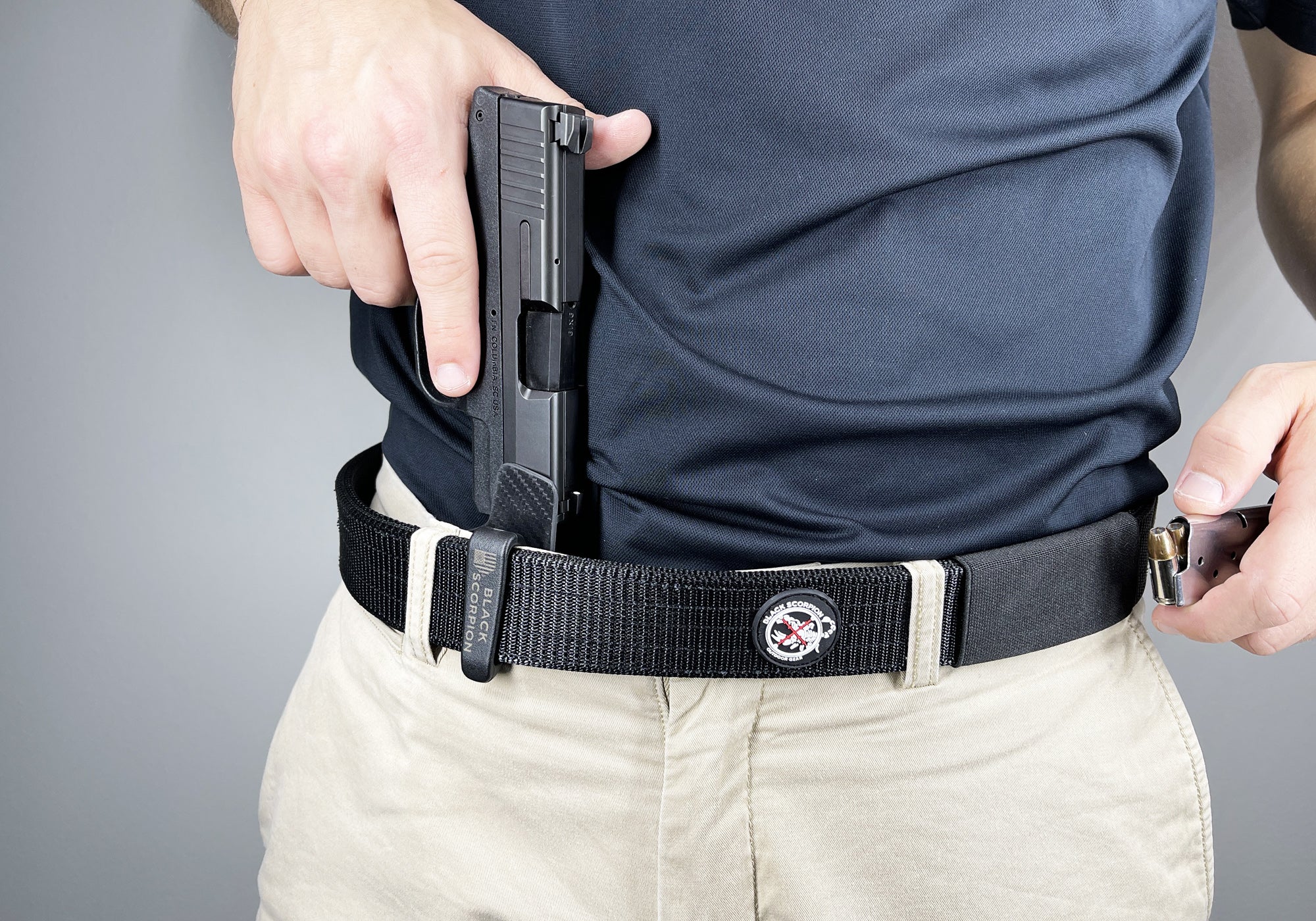 EASY TO CONCEAL, EASY TO ACCESS
The IWB Belt Wing Tuckable Holster includes a 1.5'' belt clip for convenient attachment to your belt. Crafted with the intention of providing a complete grasp of your firearm, this holster ensures quick accessibility during critical moments.
Holster model shown: FN 503 IWB Belt Wing Tuckable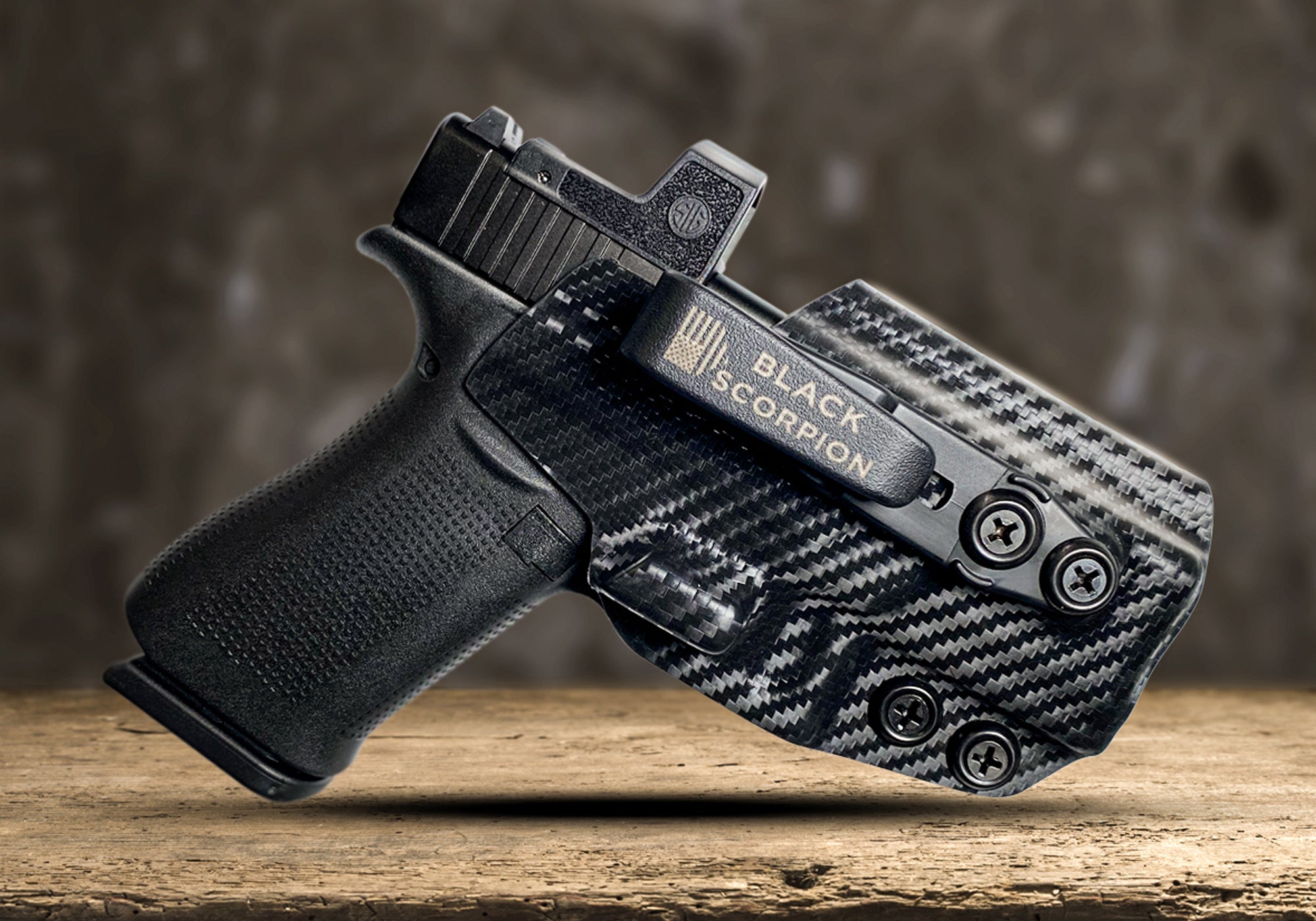 INTEGRATED CLAW & OPTICS READY
The IWB Belt Wing Tuckable Holster comes with a built-in claw that exerts pressure against the inner side of your belt. This action serves to bring the firearm's grip nearer to your body, effectively minimizing visibility. Additionally, the mid-rise sweat guard is designed to accommodate slide-mounted optics.
Holster model shown: Glock 43X MOS IWB Belt Wing Tuckable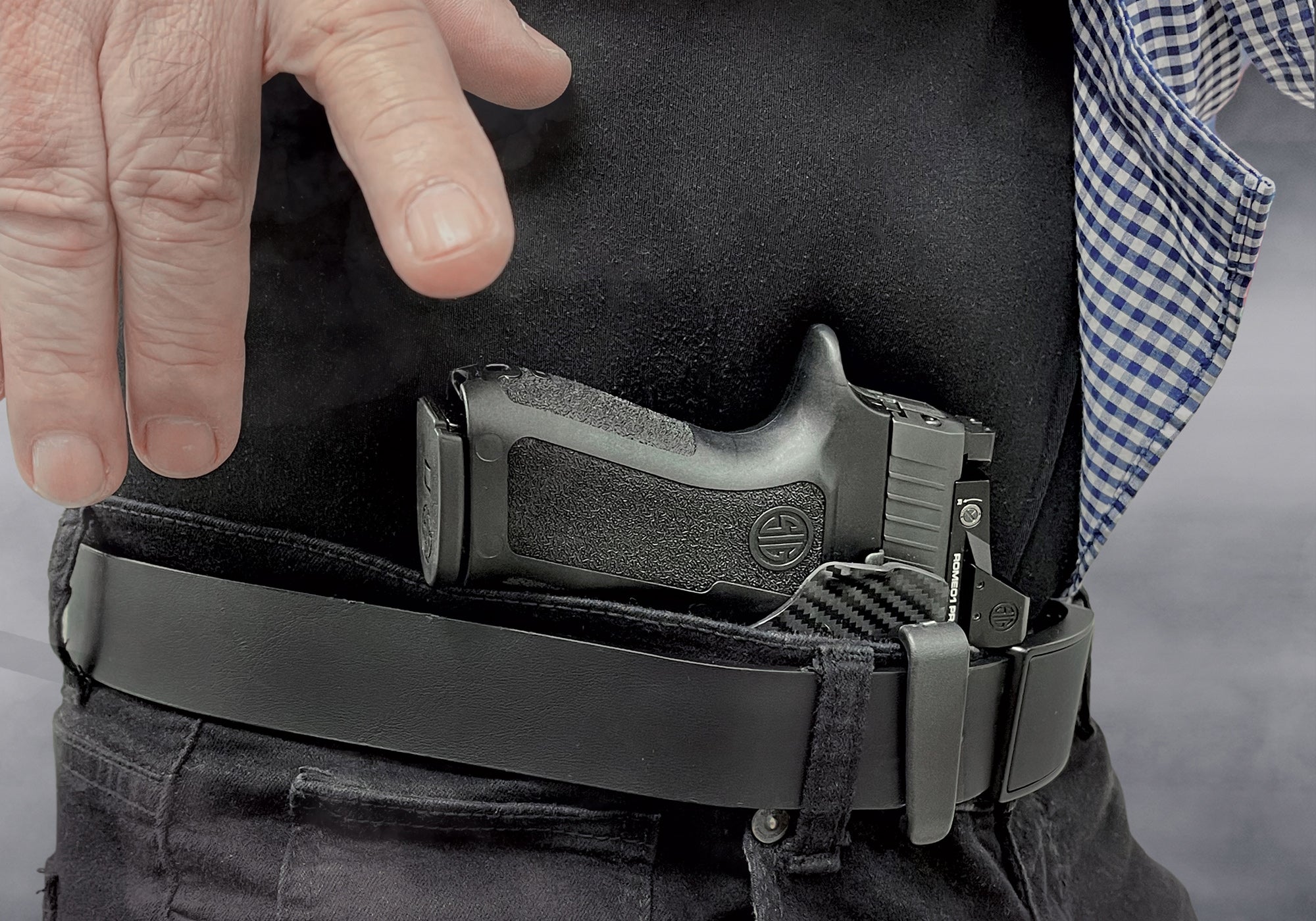 Your Absolute Go To
The IWB Belt Wing Tuckable Holster is meticulously designed to cater to red-dot optics, effortlessly accommodating popular models like the RMR and SRO. It ensures an impeccable blend of comfort and precision fit. This covert Inside the Waist Band holster can be tucked, making both your firearm and holster seamlessly vanish beneath your attire.
Holster model shown: Sig Sauer P320 Compact IWB Belt Wing Tuckable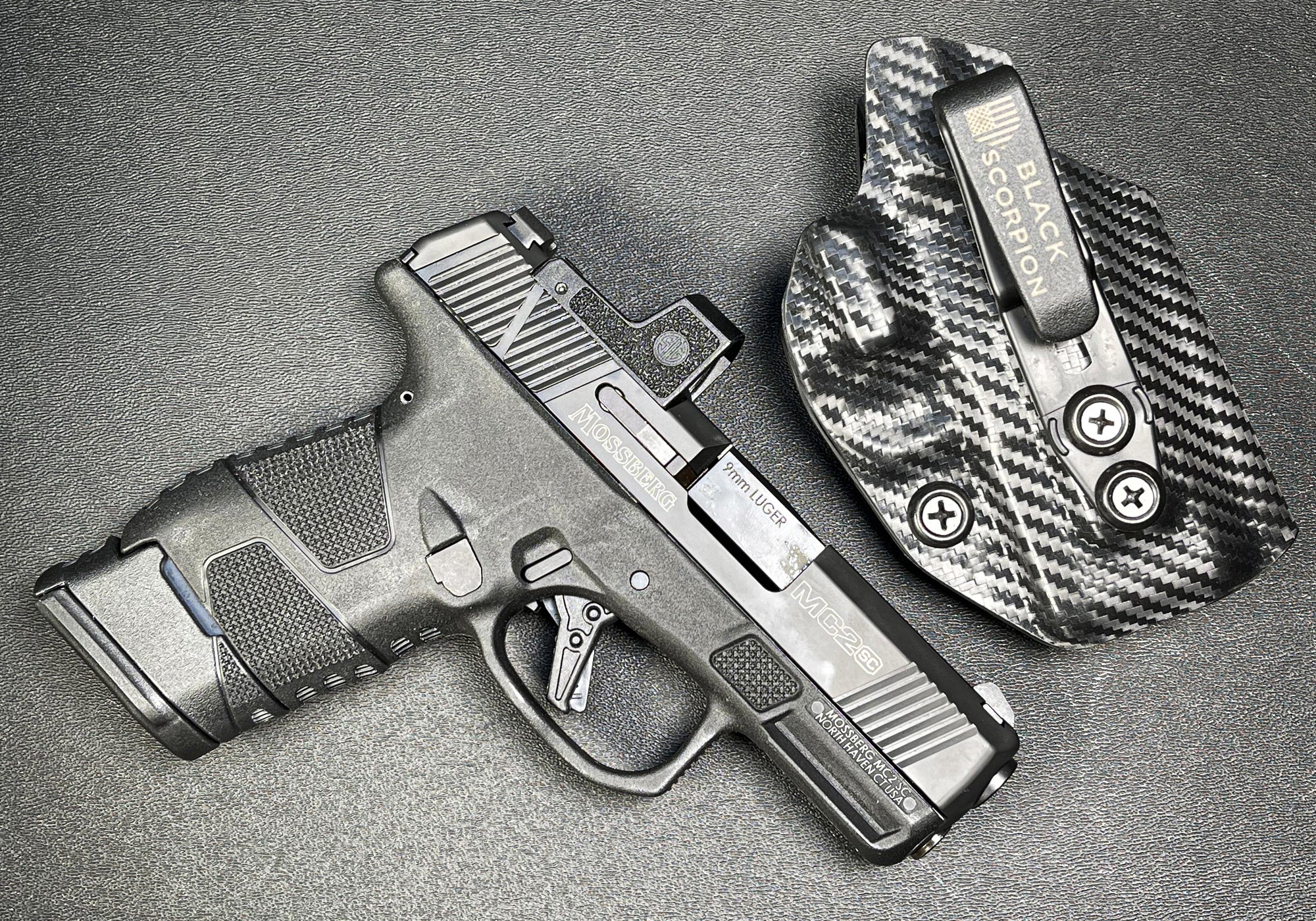 Tailored for a perfect fit