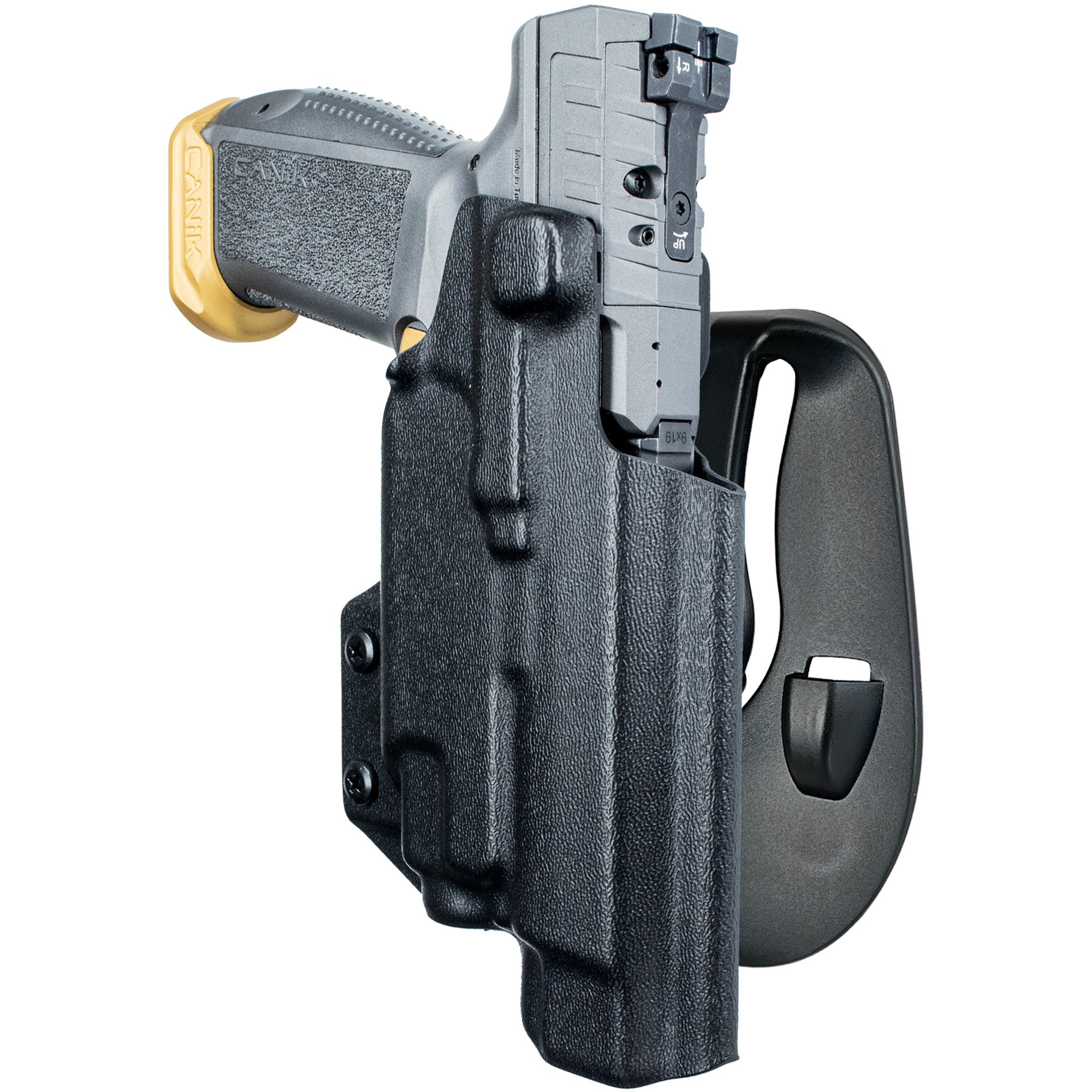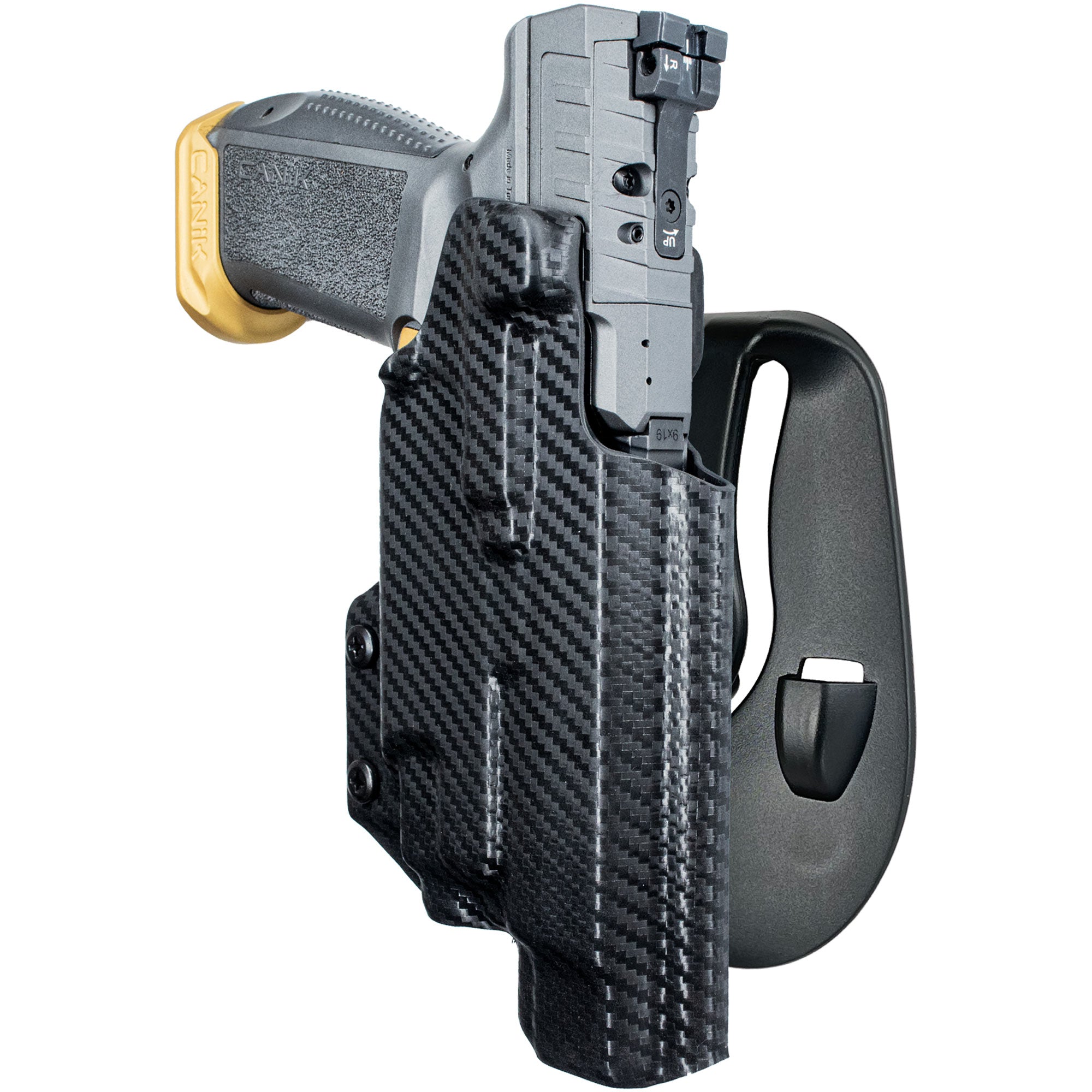 Canik SFx Rival w/ TLR-7/TLR-8 OWB Paddle Holster
SKU: HC03-PADDLE-RIVALTLR8-BKRH
Compatible Firearm(s):
| | | |
| --- | --- | --- |
|  Make | Model | Barrel Length |
| Canik | SFx Rival w/ Streamlight TLR-7A or TLR-8AG | 5'' |
| Canik | SFx Rival Dark Side w/ Streamlight TLR-7A or TLR-8AG | 5'' |
The OWB Paddle Holster is the perfect choice for gun enthusiasts looking for a comfortable, reliable, and versatile holster option. Crafted with premium materials, this holster is designed to provide a secure fit for your firearm, ensuring maximum retention and easy access when you need it.
The holster features an adjustable paddle attachment that allows you to easily and securely attach the holster to your waistband, providing a comfortable and secure fit. The holster is made from .80'' Kydex and the OWB Paddle is made from durable polymer materials that are both lightweight and strong, ensuring the holster can withstand the rigors of daily use.
Whether you're a law enforcement officer, military personnel, or a responsible gun owner, our OWB Paddle Holster is a must-have accessory for any firearm enthusiast.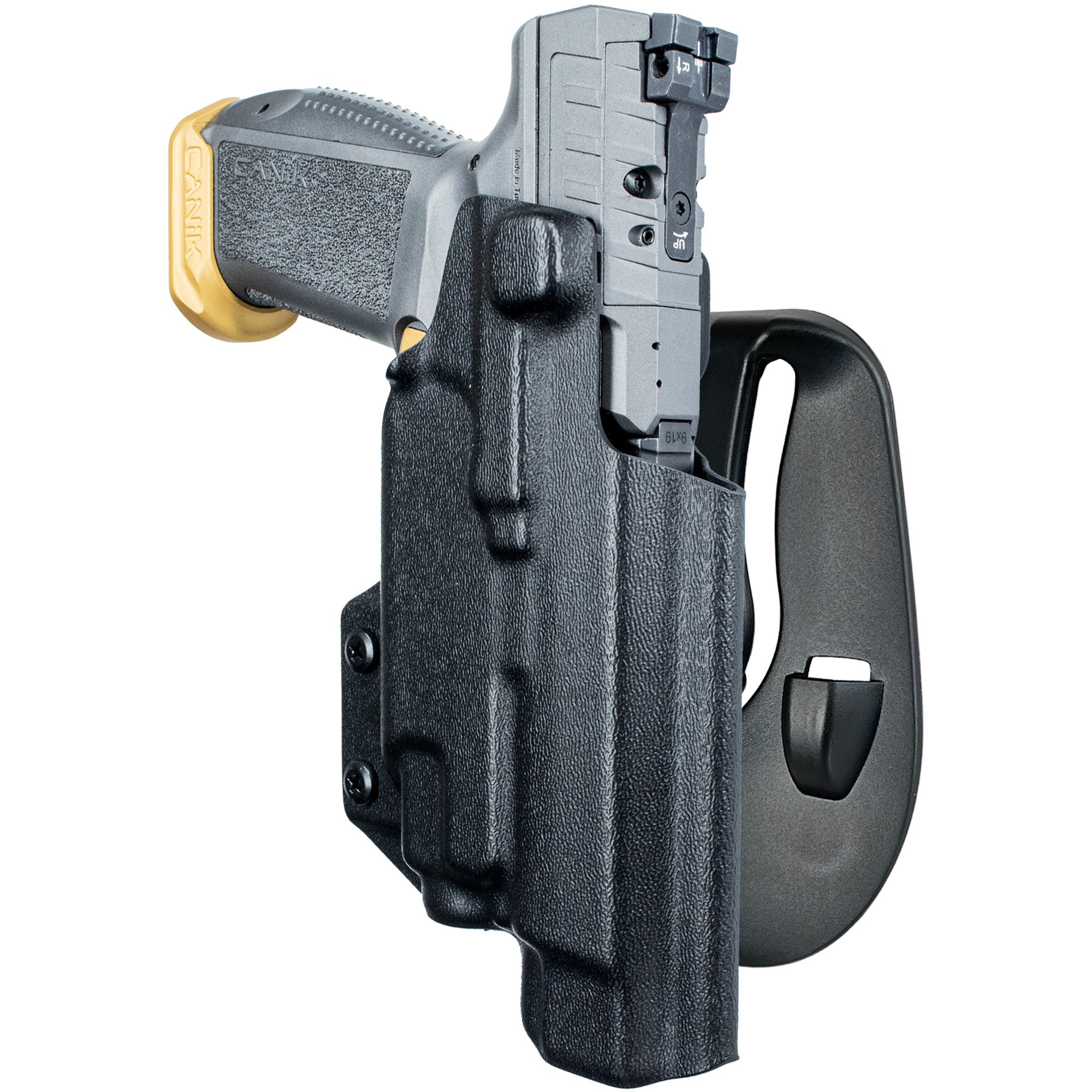 Canik SFx Rival w/ TLR-7/TLR-8 OWB Paddle Holster
Sale price

$44.99
Regular price
Choose options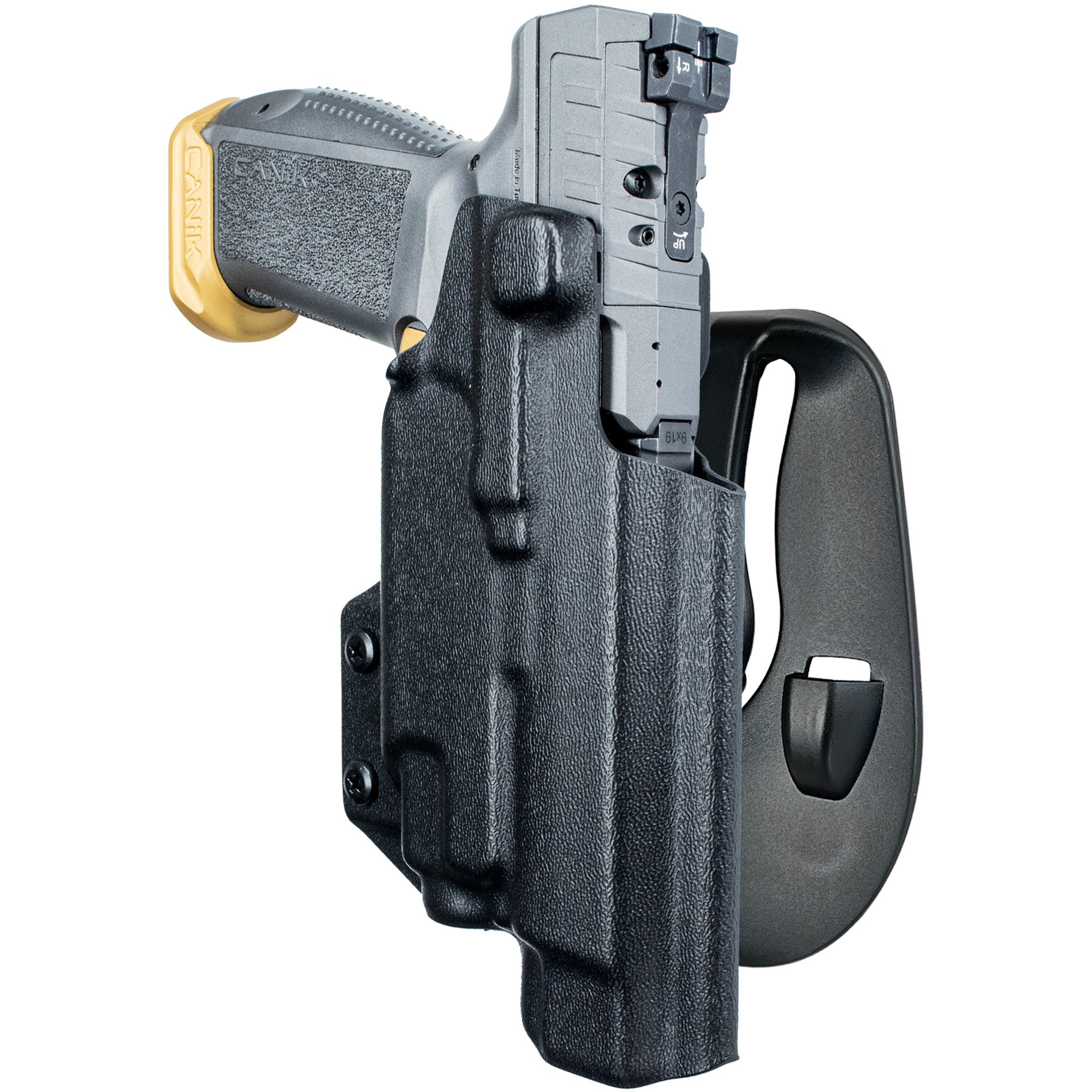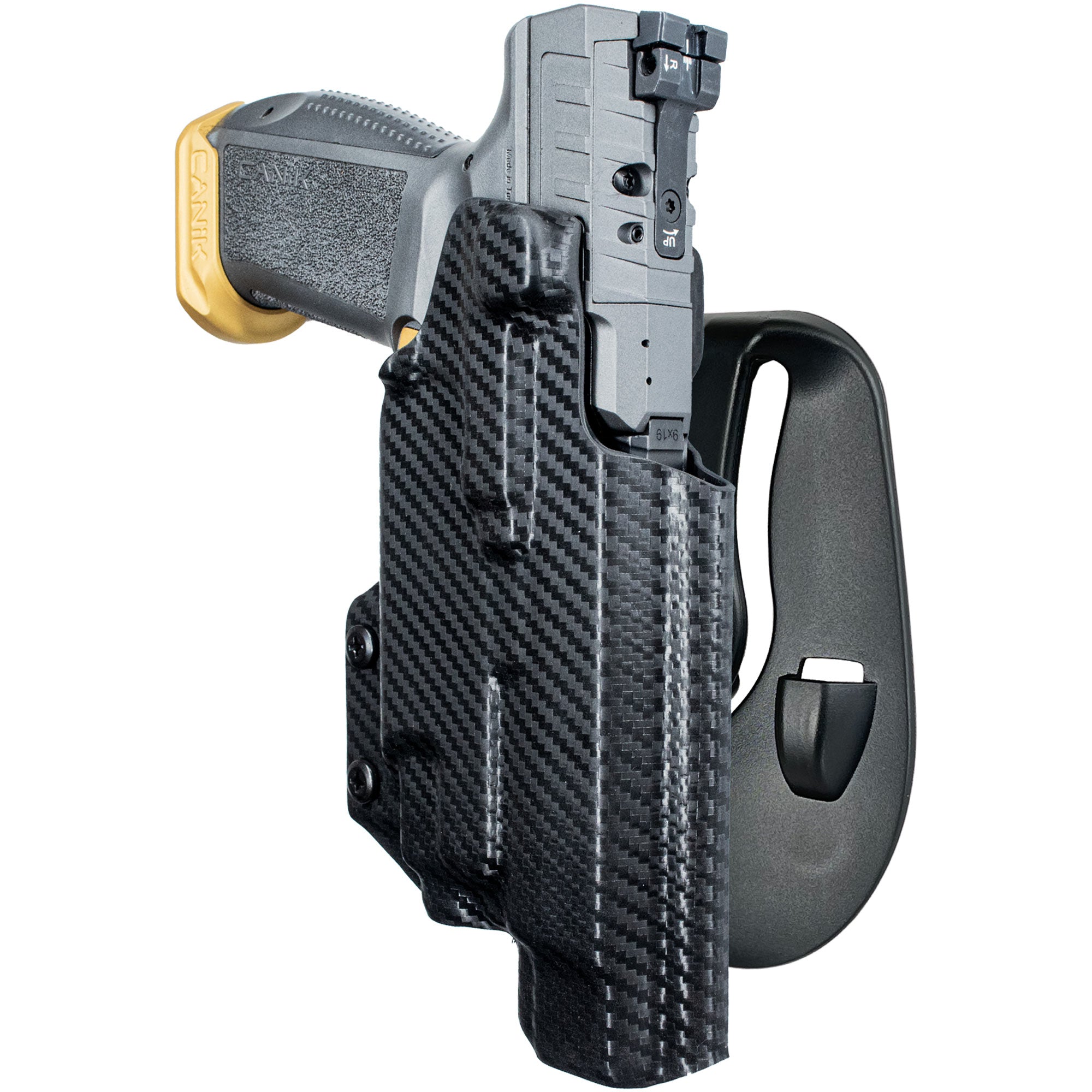 The cut and strap allow the use of most slide-mounted optics.
Adjust the angle of the holster by +30 or -30 degrees.
The Paddle Holster is compatible with belts up to 2'' wide.
The holster is tapered but open on the muzzle end to allow the use of a threaded barrel.
Tighten or loosen your weapon's draw by adjusting the two retention screws with a Phillips screw driver.
Designed, Manufactured & SHips from Sunrise, FL.
Could be better
It feels kinda like cheap plastic with sharp edges.
Its made for a gun I don't plan to carry as the gun is very heavy, so it will do what I need it for while I'm at the range or shooting with friends.
It's nice looking, just needs improvement in material used to give a softer feel.
Paddle Holster
I'm not much for plastic type holsters, usually a leather guy. But I need to be honest here and tell you I absolutely love the fit and finish of my Black Scorpion holster for my Canik. Thanks for such a great product
Canik Rival with tlr 7a OWB paddle holdter
The holster came very quick and was a good deal as I got it on veterans day and they offered a good discount to veterans so I went to try it out. The kydex material is good and fits the gun perfectly. I wish that with some kydex holsters that are just retention there is small click or settling in noise to ensure the gun is secure in the holster. Although you can tighten it to your liking of draw retention and its design is more for OWB shooting on the range I still like more security for the firearm. My goal is to use it in my local matches of IDPA competition shooting and fun on the range when it's a dot day. Also, there is a gap around the rear trigger guard where I might be nit picking could be a little more secure fully encompassing the trigger guard. Although unlikely a small branch or fabric could get in there and make the weapon unsecure. I also understand the design and it would make it harder to draw the gun with a proper index on the backstrap. If these two issues could be addressed in future production would be a 5 star review and become a lot of peoples number one choice. Also, if there is a modularity option to use on other systems like a QLS would be nice but that is extra and does not factor into the craftsmanship of the holster. Overall, a good holster and would recommend for a range holster or comp holster.
Package Contents
1X OWB Paddle Belt Attachment - 1X Holster w/ Hardware
MADE FOR YOUR FIREARM
Precision crafted with CNC machined molds tailored specifically for your firearm - No compromise on fit, no universal designs, just perfectly made for your firearm.
Model shown: Sig Sauer P320 X5 Legion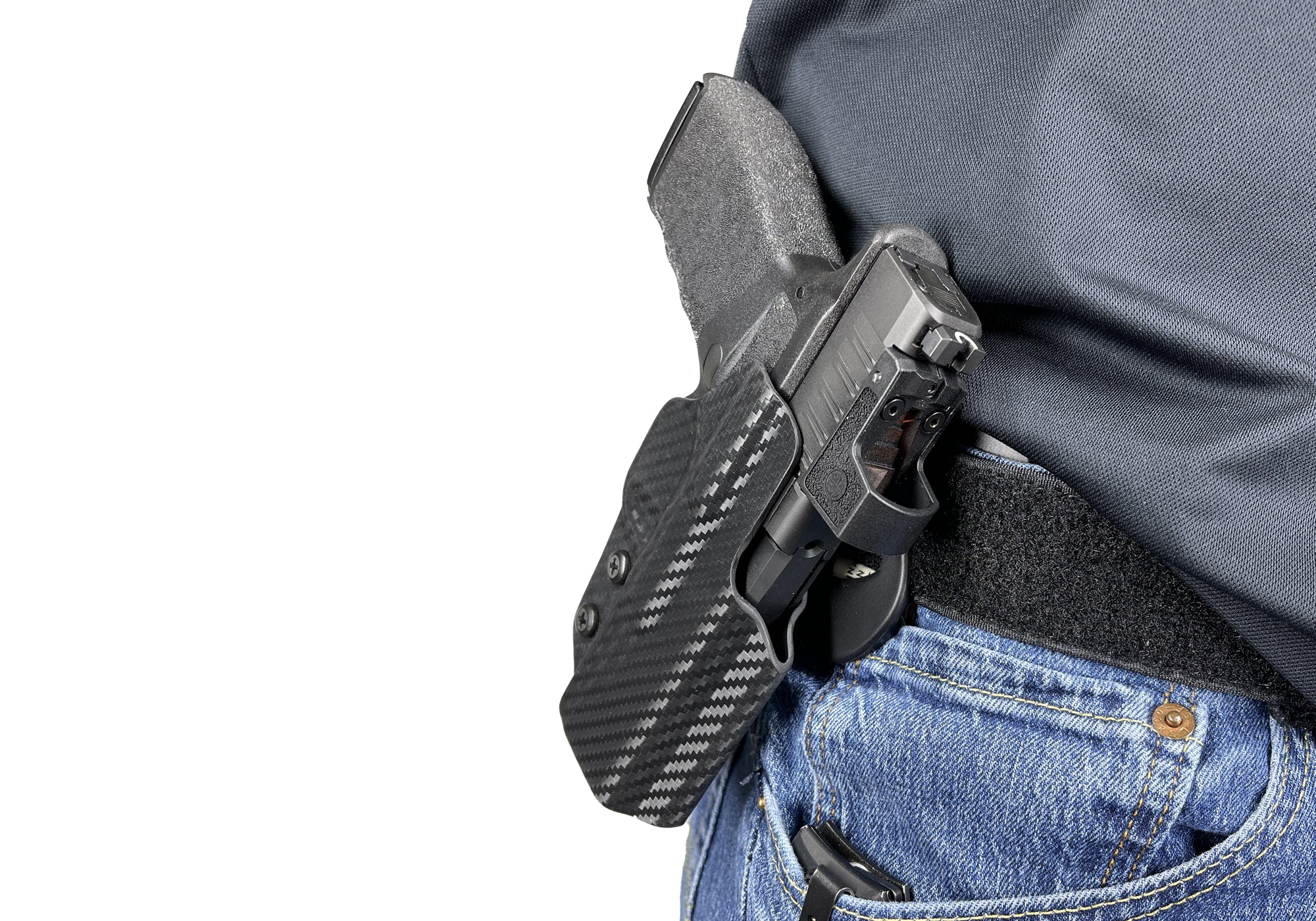 OPTICS READY
The competition cut allows the use of any slide-mounted optics from RMRs to SROs.
Model shown: Springfield Armory Hellcat Pro
Adjustable 'CANT'
Adjust the angle of your firearm by loosening the rear Phillip screws and rotating the Paddle attachment.
Comfortable for all day carry.
Compatible with belts ranging from 1.5'' to 2'' wide, the OWB Paddle Holster boasts adjustable retention and angle.
Model shown: Springfield Armory Hellcat Pro