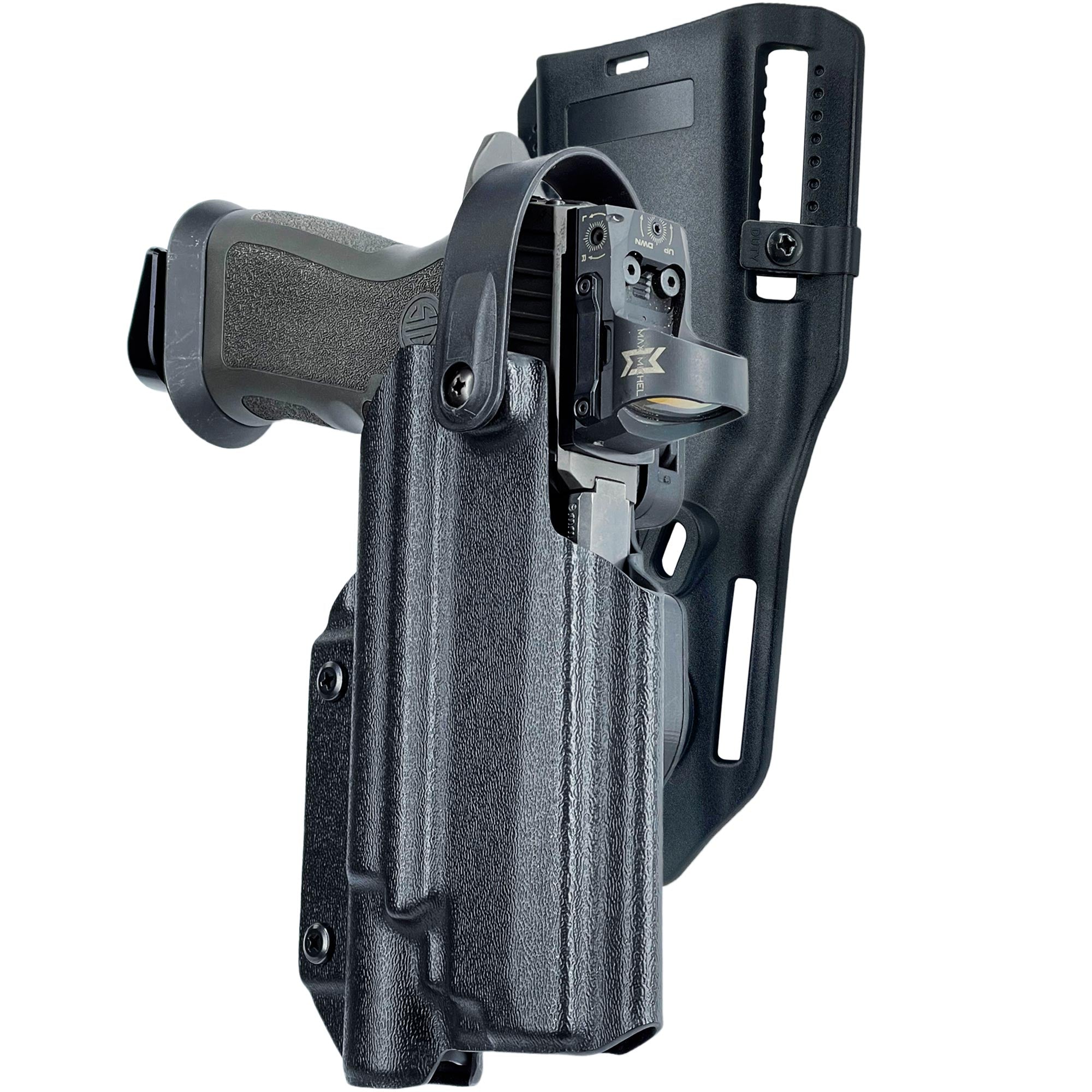 Sig Sauer P320 Full Size w/ X300 Level II Duty Drop & Offset Holster
SKU: HC25-DROP&OFFSETII-P320
Introducing the Level II Duty Drop & Offset Holster - the ultimate choice for law enforcement professionals, tactical and competitive shooting enthusiasts who demand the very best in performance, functionality, and style. This holster boasts a range of advanced features that make it the perfect solution for anyone who needs a reliable, high-performance holster for their firearm.
The manual locking hood of this holster is designed to release with a simple push of a button, providing lightning-fast access to your weapon when you need it most. The quick-release system ensures that removing your firearm from the attachment is a breeze, while the 13 mm spacer provides ample thumb clearance for a smooth, natural draw.
But that's not all - the Drop and Offset belt attachment is compatible with belts up to 2.25'' wide, and can be easily adjusted to fit the corresponding belt width using the two tabs and Phillips screw. The locking hood provides enhanced protection against attempted takeaways and can be easily unlocked by pushing down on the thumb tab.
And let's not forget about the advanced features that truly set this holster apart from the rest. It accommodates slide-mounted optics and suppressor height sights, ensuring that your weapon is always ready for action. The adjustable retention screws provide a secure fit for your weapon, while the 360 degrees of cant adjustability allows you to customize your draw angle to your specific needs.
Choose the Level II Duty Drop & Offset Holster for the ultimate combination of style, performance, and functionality - and experience the difference for yourself.
Compatible Model(s): Sig Sauer P320 AXG Pro 4.7'' | P320 XFIVE DH3 5'' | P320 M17 4.7'' | P320 Nitron Full Size 4.7'' | P320 RXP Full Size 4.7'' | P320 Spectre Comp 4.6'' | P320 X-VTAC 4.7'' | P320 X5 5'' | P320 XFull 4.7'' | P320MAX 5'' | P320 X5 Legion 5'' using the SureFire X300U-A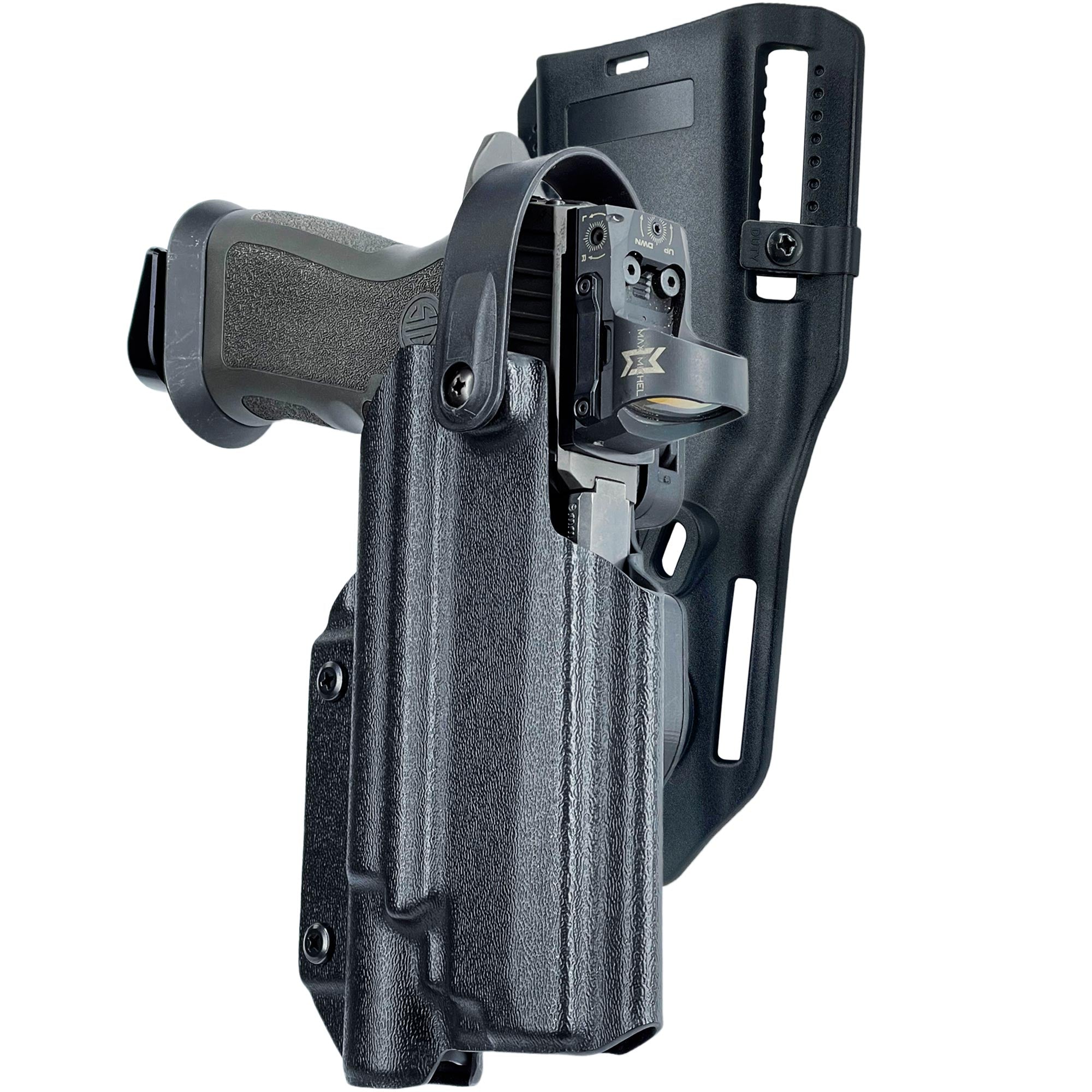 Sig Sauer P320 Full Size w/ X300 Level II Duty Drop & Offset Holster
Sale price

$109.99
Regular price
Choose options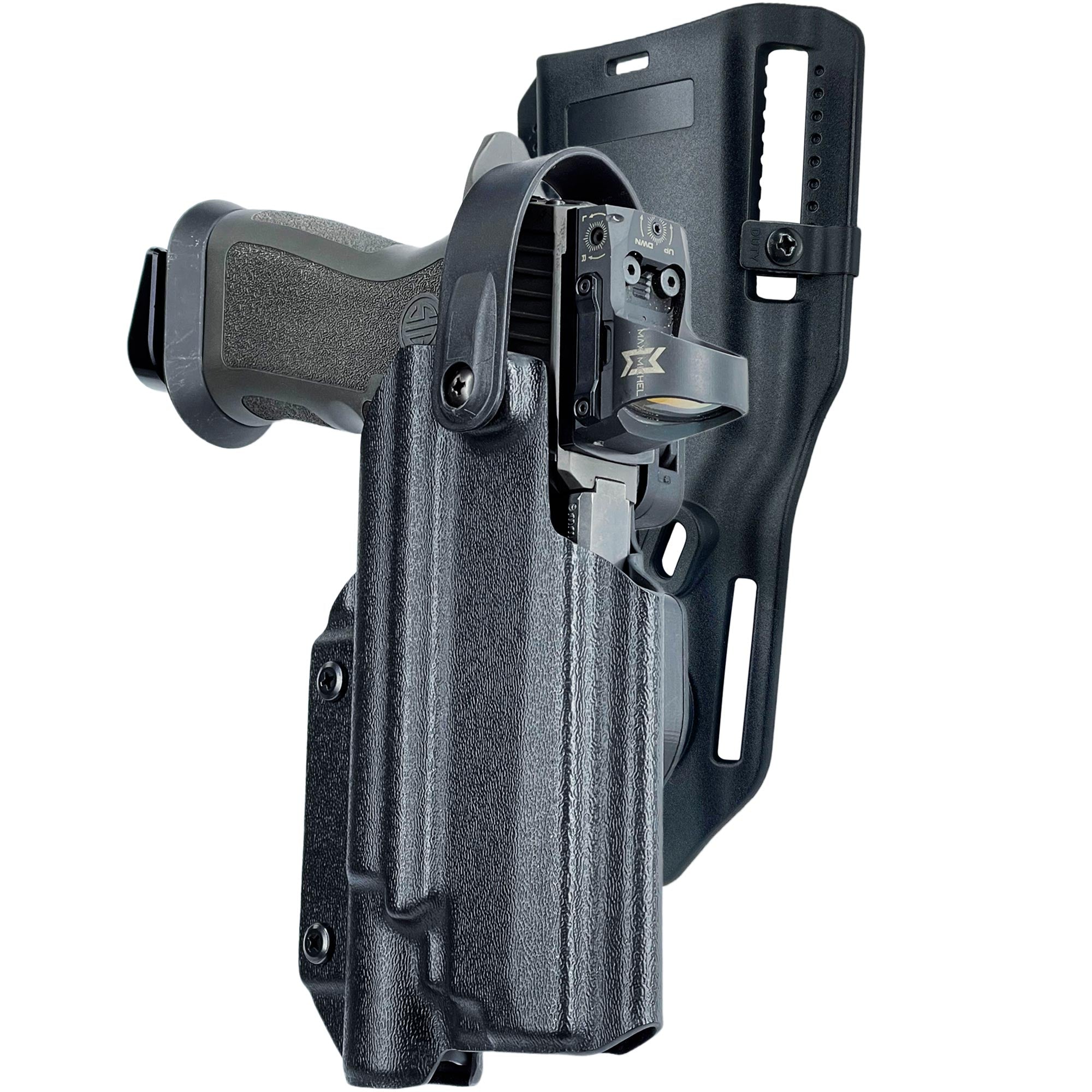 LEVEL 2 DUTY DROP & OFFSET HOLSTER FEATURES:
The cut and strap allow the use of most slide-mounted optics.
Easily attach or detach the holster from the attachment with the press of the lever.
Tighten or loosen your weapon's draw by adjusting the two retention screws with a Phillips screw driver.
Customize the angle of your firearm by rotating the holster on the quick release attachment.
The holster is tapered but open on the muzzle end to allow the use of a threaded barrel.
Designed, Manufactured & Ships from Sunrise, FL.
P320
Great product, perfect fit, fast shipping and great price
Wish I could go more for my other guns, but you do not carry
Package Contents
1X Drop & Offset Belt Attachment - 1X Holster Strap & Hardware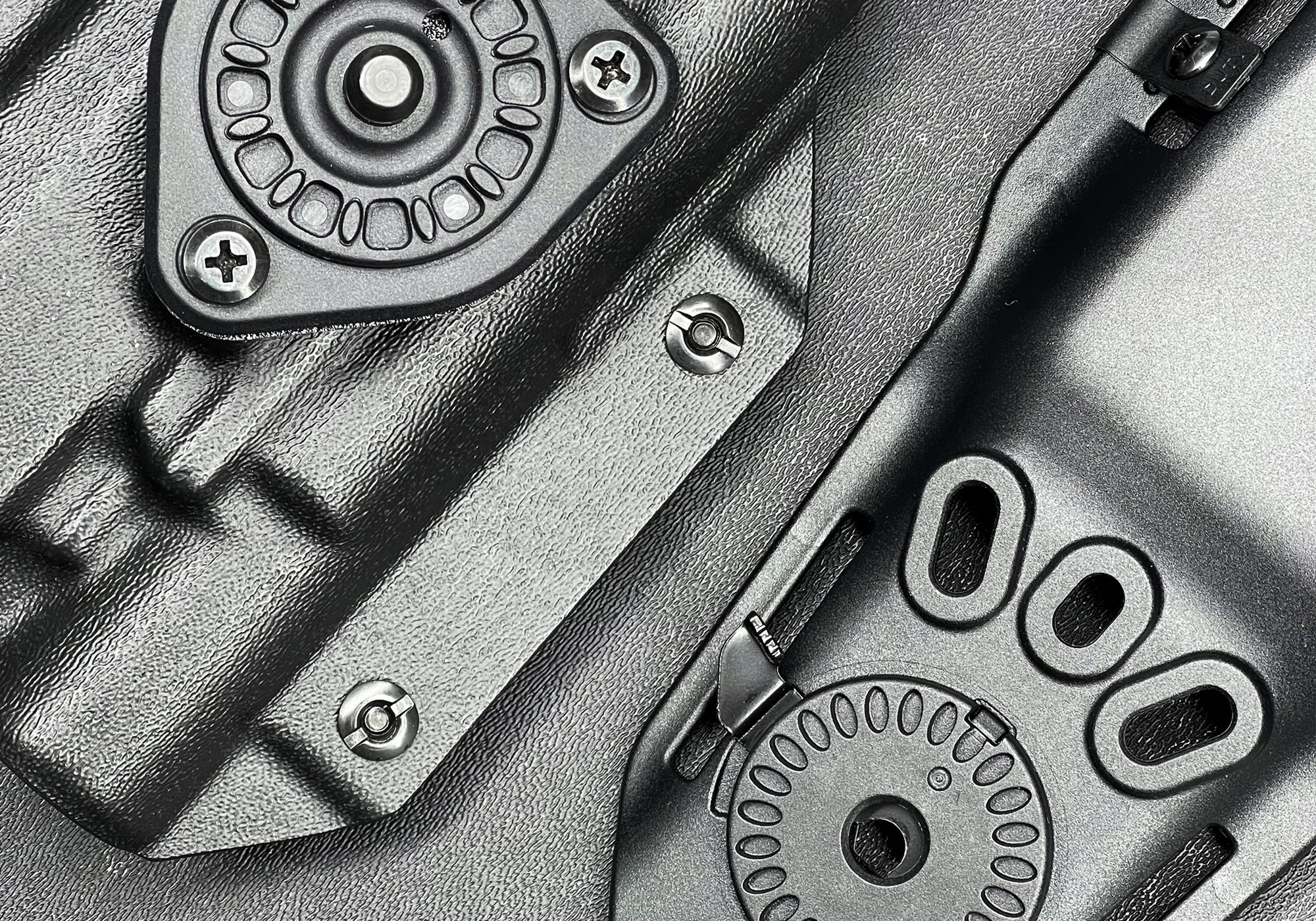 Quick Release System
Experience the convenience of our Quick Release System, enabling seamless firearm detachment from the belt attachment through a swift lever action. Say goodbye to the hassle of removing your belt to extract the holster from its position.
READY FOR DUTy
The Belt Attachment is compatible with 1.5'' to 2.25'' belts.
Model shown: Sig Sauer P320 X5 Legion w/ Surefire X300U-A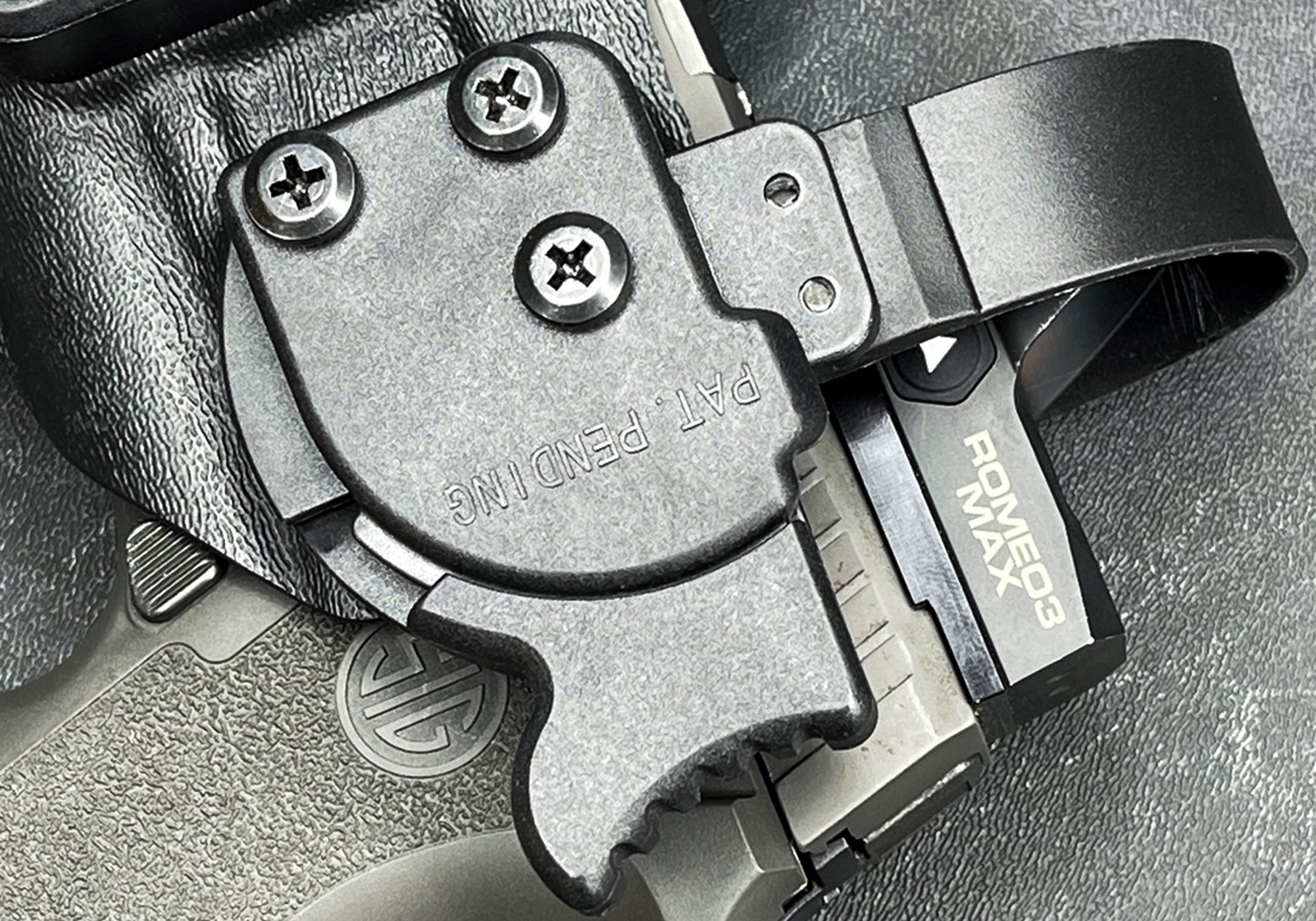 OPTICS-READY LEVEL II HOOD
The locking hood is designed to clear most slide-mounted optics.
Model shown: Sig Sauer P320 X5 Legion